How COVID-19 & Lockdown affected humans?
COVID-19 is a global pandemic from which every country is going through. Only means to stop the cycle of infection was isolation and Social distancing. Lockdown was the only option left for everyone around the globe to gain control over the spread of the virus. Due to this, there was a tremendous escalation in mental issues of anxiety, depression, and harmful behaviors. While many people are experiencing heightened anxiety as they cope with the impact of the COVID-19 pandemic, the challenges of life in lockdown may be particularly complex for people with existing mental health conditions.
Also, the COVID-19 situation can trigger or worsen symptoms of obsessive-compulsive disorder. OCD can make people go overboard with cleaning: They keep washing their hands, sanitizing door handles, and cleaning milk packets and vegetables.
The researchers feel that sexual minorities are likely to experience "unique and additional stressors related to their minority identity, which could combine with other stressors to impact psychological wellbeing," as a result of the lockdown. This situation could also revive memories of old traumas in some people. The use of porn and the Internet to cope with the dullness and anxiety of these days could turn to addiction, leaving behind a permanent adverse impact even after the lockdown is over. This will lead to a lack of concentration and ability to think & innovate especially in youth. Even there is a notable increase in cases of suicides and domestic violence.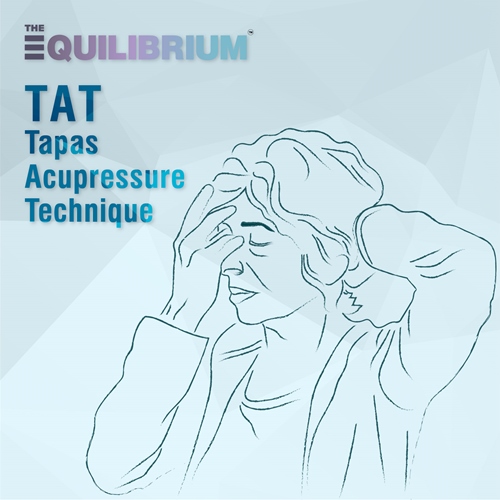 How can the equilibrium help?
We THE EQUILIBRIUM believe in mental and physical stability to perform better in life. Mental peace is the key to live happily and add more life to days. Due to recent pandemic COVID-19, many individuals are facing emotional pain and mental issues.
We use effective energy & pressure technique to bring back the peace and stability in life. We also perform meditation and mindfulness methods to boost concentration and working efficiency. Here are some useful tips like, "How to overcome issues faced while or after lockdown?"
TAT & EFT for emotional and mental problems!
The Emotional Freedom Technique has effective outcomes for physical, emotional, and performance issues. There are always unresolved emotional issues in the way and EFT operates through part of your life where improvements are needed, even for physical issues, chronic pain, or diagnosed conditions. It's public awareness that any quite emotional stress can impede the natural healing potential of the physical body.
Tapas acupressure technique is an efficient technique to heal your mental and emotional problems. TAT helps in bodily & emotional trauma, addictions & habits, eating disorders, and depression. Both these methods are easy to perform at home to enhance your mental peace and control your emotional outbreaks. As per the research, we came across majorly faced issues while fighting COVID-19 such as,
Depression & Anxiety: The study showed high levels of depression among frontline healthcare workers and people in communities with high infection rates. Such anticipatory stress and anxiety, along with loneliness, could not only affect mental health but lead to a decline in lifestyle quality and, ultimately, one's health choices. Depression is a known risk factor for sleep disorders and eating disorders.
However, India also offers, by its social structure, a variety of personal and social resources that help cope with such crises. Family is one such vital resource, and being in close touch with relatives, in real life or virtually via social media or the Internet, alleviates stress considerably.
Loneliness: Be active in social media groups. Spend time with loved ones when you feel low or lonely. Try to be in touch with friends, family, and colleagues over social media or the phone. Pick a new hobby & try to learn something new every day. Pen down your thoughts & emotions regularly or share with your loved ones. You can also talk to our experts for more help.
Addiction: People with habits like smoking and alcohol consumption, are desperate to have cigarettes or alcohol. Take this positively as a challenge to change habits by engaging yourself in meditation. Distract yourself with new hobbies or family discussions when you feel the urge to smoke or drink.
Panic and fear: Keep in mind; you are not alone. Be expressive about experiencing panic and fear. Consult the expert or the person you trust to share your feelings. We are here to help, contact our experts now.
Apprehension about Future: It is common to have apprehensions and panic about the future while lockdown. However, worrying does not help in this case it's better to be optimistic and be ready to work hard in the future.
Meditation & Mindfulness methods for balance.
Meditation is an ancient method to stable your inner peace and increase focus. It also brings joy and a positive approach to life. Practicing it daily will decrease stress in your life.
Mindfulness is the method to deliberately focus on thoughts at this moment. By focusing on the aim and targets daily, one will be able to find the path to achieving it.
Difficulty in concentrating & low motivation: It takes time to adapt just Pick a physical activity of your choices like mediation or simple stretches. Spend at least one hour per day on your physical health. It is a good idea to meditate. Meditation improves concentration. It is important to be rational regarding the expectations we set for ourselves as well as for those in care of us. Stop expecting from others because they are sailing in the same boat. Consult a therapist to seek help.
Talk with certified experts & Connect with us!
Many people around us are not able to share their issues with family or friends. In this case, it is better to consult a therapist to solve the problems. We have certified experts for you to solve all the emotional and mental issues online with effective techniques. Our experts will guide you through your negative thoughts phase. Sharing is the key to heal yourself from depression. Do share your negative thoughts with family, friends, or therapist, to avoid any misleading step. Due to lockdown, we have come across many suicide cases, even of well-known people. All because of depression and negative thoughts.
Conclusion
COVID-19 is now a part of our life and we have to live with it until the vaccine is found. For a healthy life, one needs to exercise both physically and mentally as both of them are equally important. Please follow social distancing and maintain hygiene to avoid the spread. Feel free to contact us for mental support and healing. Contact us online and book your appointment.
Mental Health Therapist , Mental Therapist , Psychiatric Consultation , Best Psychologist Online , Psychotherapy and Counseling , Online Psychotherapy , Psychotherapist , Counseling and Psychotherapy, Psychotherapy Counseling , Psychotherapist for Depression , Emotional Intelligence , Emotional Intelligence Psychology , Emotional Intelligence in the Workplace , Emotional Intelligence Workshop , TAT Therapy for Anxiety , Mental Health Therapist , Tapas Acupressure Technique Training , How to Release Emotional Pain , Havening for Anxiety , Online Certified Mind-Body and EFT Practitioner , Online Mindfulness Training for Professionals , Certified Online TAT Practitioner , Online Employee Support Services , Wellness Program for Employees , Online Mind and Body Practitioner , Certified Online EFT Practitioner , Ways to Get Rid of Emotional Pain , Wealth Management , Wealth Management Firms , Wealth Advisor , Financial Abundance , Procrastination , Procrastination Meaning , Meaning for Procrastinate , What Procrastination , Meaning of Procrastinate , Procrastination Psychology , Professional Procrastinator
( Certain content is taken from sources, owned by those writers and companies, not propriterary of TheEquilibrium and we thank those companies for the same)